Fixed Flange Towbars


Standard Ball Al-Ko Type (extended) Ball

Widely used across the UK the system is ideal for blade type stabilisers and bike carriers which bolt behind the flange ball. This type of ball mounting is normally one of the cheapest to purchase as there is more choice of manufactures. Bumper protection plates can be mounted behind the ball to protect the vehicle bumper when hitching to your caravan or trailer. This type of bar is fixed on and visible at all times on the vehicle along with the towing electric's which are usually mounted to one side of the ball. If your caravan uses an Alko type stabiliser then a Alko flange towball is required (pictured above in black) to ensure that there is enough clearance for the safe operation of the stabiliser.


Swan Neck Towbars






Swan neck towbars have been manufactured for over 30 years in close collaboration with all major car manufacturers. It is important to note therefore that the car manufacturers calibrations for towing are all based on the "swan neck" design. This style of towbar is more usually seen in continental Europe, but due to its good looks and beening slightly less prominent on the rear of the vehicle with electrics useually mounted under the bumper popularity is now growing fast in the UK. The Latest news is that this type of towbar system is now being used by most al-ko towbar stabilisers owners.


Detachable Towbar System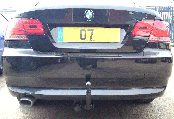 Detachable towbar systems have been designed for consumers who are worried about the looks and impact a traditional towbar may have on the rear of there vehicle. The above vehicle a BMW E90 Coupe was fitted with a brinkmatic detachable towbar as you can see from the picture on the left the towbar and electrics are completly hidden when not in use. Detachable towbar systems allow the ball to be released from the towbar and depending on the towbar manufaturer these bars will either be completly hidden when not in use or the electics and ball mounting socket will be slightly visible below the bumper.
Mobile towbar fitting service available :- Southport, Liverpool, Formby, Ainsdale, Birkdale, Crosby, Bootle,
Crossens, Churchtown, Leyland, Ormskirk, Maghull, Tarleton.